Dryer Vent Cleaning Cost Columbus, Ohio
Schedule Your Dryer Vent Cleaning Service
Our Dryer Vent Cleaning packages are all-inclusive and will cover your system in detail. We use state-of-the-art vacuums, hoses, brushes, and whips that disrupt contaminants while efficiently removing debris plaguing your dryer system.
For custom Air Duct, Dryer Vent, or Carpet Cleaning services pricing, fill out the form at the bottom of the page or CLICK HERE to visit our Contact page.
We Believe In The Services We Sell
Our professionals believe that it's the small things that are important when maintaining the trust and confidence our customers place in us. Before we even arrive, you will understand all costs and know you're working with a company that will respect you, your time, and your property. Our dryer vent cleaning process is designed for your convenience and complete satisfaction. We will clean your dryer vent of lint and anything else that has found its way into the line. When we leave, you will be confident Clean Extreme has left you with a clean and safe dryer vent.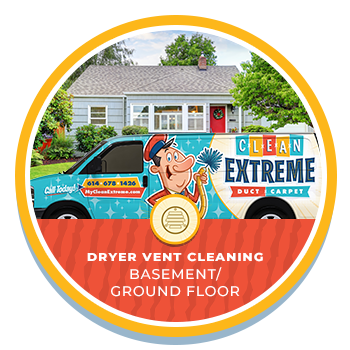 Basement/Ground Floor Dryer Vent Cleaning
$199 | Dryer located in the basement or on the ground floor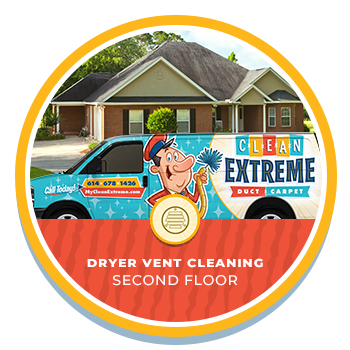 Second Floor Dryer Vent Cleaning
$249 | Dryer located on the second floor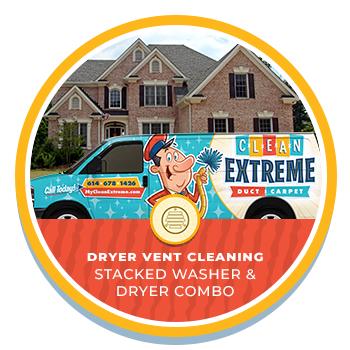 Stacked Washer & Dryer Combo
Add Your Dryer Vent Cleaning To An Air Duct Cleaning
Are You Wondering About Dryer
Vent, Carpet Cleaning, or Air Duct Cleaning Cost?
Please send us a message and learn more.
Since 2011, Clean Extreme has been dedicated to providing Central Ohio residents with convenient industry-leading service and fair, transparent pricing because we live here. That's right; we're your neighbors, and we believe in doing right by our neighbors. We have stood for courtesy, confidence and, complete satisfaction because we believe that you shouldn't have to pay an unreasonable cost to receive a professional service.
We believe that it's the small things that are important when maintaining the trust and confidence you place in us. If you live, own a business, or run a property here in Central Ohio, trust our professionals at Clean Extreme to get your job done right the first time.